WELCOME TO FORTITUDE BALI
---
Fortitude is a premium, fitness facility that caters scalable programs for all levels, from weekend gym-goers to avid fitness enthusiasts.
---
Whatever your background or goals, you'll feel right at home with our community of like-minded individuals.
---
Class Schedule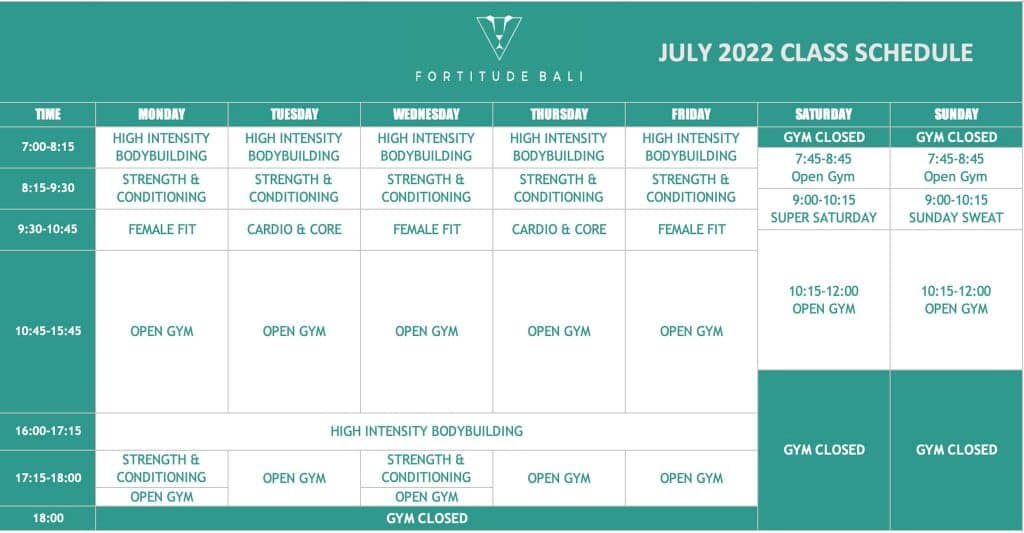 OPENING HOURS:
Monday – Friday: 7am – 6pm
Saturday – Sunday: 7:30am to 12pm
CONTACT DETAILS:
Email: info@fortitudefitnessasia.com
Contact number: +62 857 38918082
Class Descriptions
High Intensity Bodybuilding (HIBB)
We combine cardio and bodybuilding exercises in an interval-style format that will have you feeling challenged and energized. Expect to lose sweat and build strength with these high intensity sessions!
Strength & Conditioning (S&C)
Our S&C program incorporates elements from all kinds of training, such as, weightlifting, gymnastics and cardio exercises and delivers them in a variety of formats that will be sure to keep your motivation up and progress driving forward.
Cardio & Core
This class is for ANYONE looking for a mid week sweat or to build cardiovascular endurance while not neglecting your core! The focus is on low complexity moves with well paced aerobic work to help you stay consistent, healthy and fit.
Olympic Weightlifting (OLY)
In this class you will become a student to the sport of Olympic Weightlifting. Learn from our experienced coaches that design and coach your sessions to better develop the technique and strength in the Snatch, Clean and Jerk along with all the accessory work to match.
FemaleFit (FF)
Ladies, this one's for you! We'll focus on lower body strength, upper body and tummy toning to help you feel and look your best in all the right areas. Join us and be part of our awesome tribe of beautiful and strong women!
Open Gym (OG)
Not a group person? No problem! Take advantage of our open space to do your own workouts, or our awesome class programs, on your own time. Make yourself at home. You know what they say, 'mi fitness casa es su fitness casa'.
Super Saturday
Grab your swole-mate and head in for our Super Saturday Session! Our awesome partner workouts will require team work and communication as you tackle longer sessions that will no doubt bring on smiles and sweaty high 5s with your newfound fitness friends.